HDPE Fabrication & Fusion Services
Customized fabrication of HDPE pipe for fittings, components and structures.
We excel with the design, engineering assistance and custom fabrication of HDPE pipe and fittings that provide the flexibility to pipe systems that meet the needs of your application.
With our experience in design and fabrication of specialty HDPE products, we provide solutions and HDPE pipe fusion techniques applicable for custom fabricated fittings, components and structures to meet unique or specialized design specifications. Along with our extensive fleet of McElroy HDPE pipe fusion equipment, we have certified factory-trained fusion technicians and trainers who are capable of providing on-site HDPE fabrication training.
Our fabrication facilities work with HDPE pipe to build pipe assemblies, fittings, spacers, tanks, manholes, spillways and other specialty items.
Learn more about our HDPE Pipe Fusion and Fabrication Services.
Fusion services
In addition to our expansive offering of quality HDPE products and ability to customize fabricated systems for a wide range of applications, we also serve customers across the industrial market with fusion services. From pipe fusion machines and pipe fusion accessory rentals to on-the-job training, we are your complete source for HDPE pipe fusion equipment solutions and support.
Fusion machine rental, sales and repair
With our national footprint, we can deploy the appropriate McElroy fusion equipment and HDPE pipe needed to any jobsite nationwide. We offer:
A large fleet of McElroy fusion equipment for rental and sale.
Authorized equipment repair facilities located throughout the U.S.
Equipment that is part of certified McElroy rental program ensuring highest quality
Our equipment offering includes:
Rolling and TracStar track machines
½" Through 65" McElroy fusion machines
Dataloggers
Socket welders
Electrofusion processors
Extrusion welders
Sidewall fusion machines
De-beading tools
Generators
Factory-certified service and repair
Quality Assurance
Customers trust us because of our commitment to quality. Our HDPE Quality Process consists of several elements to ensure our customers receive the highest quality possible:
Inspection
All pipe and fittings are inspected multiple times throughout the fabrication process. We inspect heat fusion process reports, wall thickness, manufactured angles and cosmetic issues to ensure all the products meet specifications.
Traceability
A unique serial number is heat stamped for traceability on all fittings. Every fitting has a quality record available proving it was inspected and meets all standards.
Data-Logging
A standard procedure used for all fabricated fittings and specialty products to record all the critical data points during the fusing process.
Learn More
Nonmetallic Support/Hanging System Flyer
Corrosion-resistant pipe deserves corrosion-resistant support. Our offering of Industrial Thermoplastic products includes an engineered, nonmetallic strut/clamping/hanging pipe support system.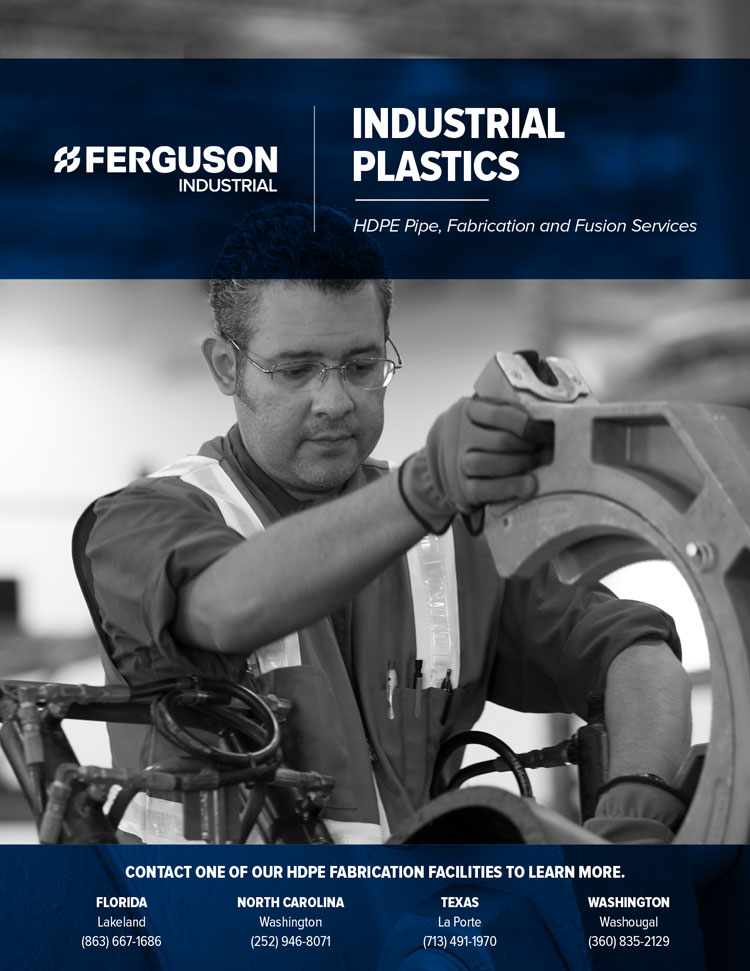 industrial Plastics Brochure
Piping made from polyethylene is a long-lasting, cost-effective solution for a broad range of piping problems in industrial, marine, mining, landfill, and agricultural applications. Download our HDPE Pipe, Fabrication, and Fusion Services Brochure.
HDPE Products
Ferguson Industrial is a leader in the distribution and fabrication of HDPE pipe and fittings. Our equipment, field technicians and facilities are strategically located throughout the United States, ensuring our ability to provide pipe, fittings and equipment regardless of customer location.